When it comes to the implementation timing of new technologies in the multifamily space, new construction is a no-brainer.  Owners can strategically outfit their properties to meet the expectations of today and tomorrow's renters with a calculated plan, offering new tech "amenities" in a non-traditional, thoughtful manner.  But what about Multifamily companies who focus their efforts on "vintage" or pre-existing properties, with little to no amenities?  The competition in the space is steep, and other than minimally lower rents, how can multifamily owners and managers stay competitive?  The introduction of new technologies provide owners and operators an added layer of amenity that once wasn't available to them.  Nine Four's multifamily partner, The Laramar Group, is a great example of how technology is proving to be a profitable endeavor across various layers of the business.  While Laramar owns and/or manages a variety of asset types, a large portion of its portfolio is pre-existing properties across various markets.  With this, we learn a lot about the value-add of innovation and are thrilled to see it flourish.
Let's take a closer look at how tech can provide value in this arena:
1. Marketing
Today's renter is focused on convenience and connectivity.  Adding tech amenities such as smart appliances, outlets and locks, car charging stations, and online maintenance requests/rental payments are valuable from a variety of standpoints but also can be a beneficial marketing tool. Promoting your company with tech integrations through websites, social media and apartment tours provides a sense of progression and competence that adds value to a brand's overall presence.  Today's renter wants the familiarity of tech woven throughout their living spaces and this can easily be communicated from a marketing standpoint.  "There's no debating that technology has become the differentiator," says Faith Aids, Vice President of Marketing and Branding from our partner Laramar Group. "Residents and employees expect it to be on autopilot these days, and instant gratification truly means instant.
2. Community
As the story goes, if you have more friends in your building, you're more likely to renew your lease.  While technology often has a reputation for creating space between people, it can also bring them together.  Applications that encourage tenants to interact and/or notify them of community events creates an environment that fosters open lines of communication and community.  This is a simple add-on to an existing portfolio that will entice renters to stay in a space that feels safe and comfortable, with neighbors they can rely on.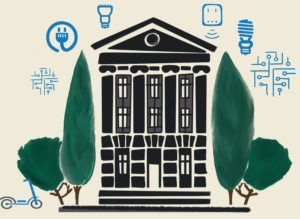 3. Value/Ease of use
This week alone I've likely received 7 packages (yes, I know…).  With that said, systems such as tech-enabled package lockers and smart access intercoms, add a layer of luxury to an older property.  Renter's want convenience, so while ordering from Amazon with one click is almost too easy, getting the actual package in hand can be frustrating for those that don't have a doorman.  While this may not be considered a traditional amenity, smart access and package systems are extremely appealing as they remove an added layer of complexity to an otherwise simple task.
4. Data
For owners of older, existing infrastructure, understanding energy consumption through data on utility categories such as water and electricity, can provide incredible dollar savings.  The use of sensors can can transform an existing property into what can be considered a smart building, creating efficiencies which once never existed.  Turning a property into an intelligent, data driven resource essentially brings it to life, giving owners the ability to act and react in real-time.
While this is just a sample of the benefits technology can provide to owners of aging, multifamily properties, it's clear that the implementation is necessary in today's advancing landscape.  When looking to differentiate, provide value, foster residents and create efficiency, technology is an undeniable resource.  If you're a building owner looking to learn more about how technology can provide accessible updates to an existing asset, we'd love to connect and provide more insight.  Learn more here.