With some experience under my belt (living in four major cities over the past ten years – Toronto, New York, Miami and now Los Angeles), I'd like to explore the true human value of co-living.  While we can undoubtedly dive deeper into the financial impact and benefits for RE owners, here, I would like to explore why this buzzworthy concept is valuable for renters and why it should not be ignored.
Consider this, you're in your early 20's, land your dream job in Manhattan and have only two weeks to move.  With no understanding of the city, no connections and a limited budget, the move can be not only challenging but also daunting.  Creating a new life, building a new network and finding a place to call home is a task.  Uprooting your life and moving into a new territory can often lead to isolation, something in which co-living can remove from the equation.  Let's explore some of these 'human factors' further.
Community at your fingertips:  I look at loneliness as a key driving factor for renters to be drawn to a co-living model.  Whether people want to admit it or not (due to the inherent stigma) being in the company of others provides for a healthy outlook and lifestyle.  With that said, younger generations are facing concerns when it comes to social interaction and a sense of community. According to a 2018 study conducted by Cigna, Generation Z (adults ages 18-22) and Millennials (adults ages 23-37) are lonelier and claim to be in worse health than older generations.
Other notable findings of the study:
– Only around half of Americans (53%) say they have meaningful, daily face-to-face social interactions.
– Loneliness has been alleged to have the same impact on our life expectancy as smoking 15 cigarettes a day
– Americans who live with others are less likely to be lonely (average loneliness score of 43.5) compared to those who live  alone (46.4).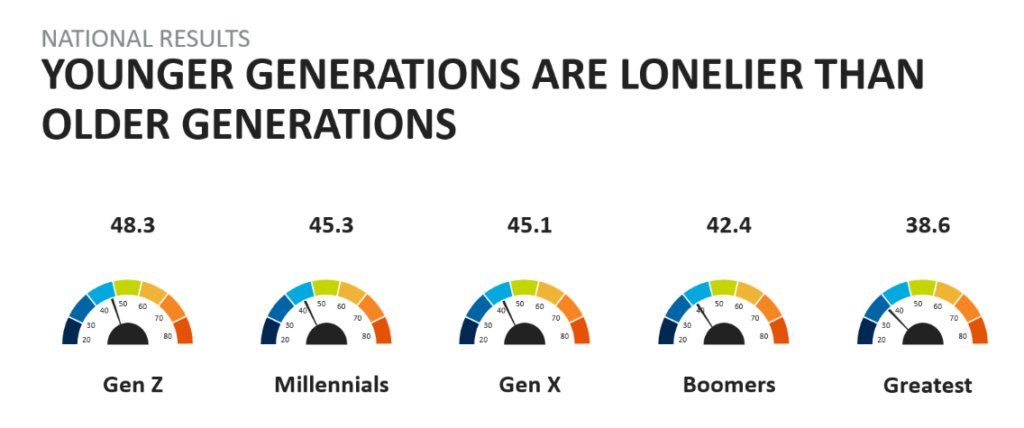 Co-living companies who understand the true impact of this can market specifically to those (sometime subconscious) concerns.  Building out communal spaces, creating open lines of communication (through technology) and creating a home where people can have their privacy yet also feel part of something, will be winning factors when signing leases.  Co-living provides renters a built-in community where potential long-lasting friendships can be made.
Ease of use:  Amenities such as incredibly fast and reliable Internet, furnished units, all-included utilities, co-working spaces, entertainment areas, and open concept kitchens/dining areas, are and will be driving factors for enhanced desirability for co-living companies.  Perks such as these will depend on various circumstances, such as whether the property is new or pre-existing construction, but either way, owners should aim to be creative and thoughtful as these will not only be a bonus, but often expected. In addition, the offered lease flexibility provides those who are non-committal and or those who are simply on a short-term stay an added bonus.  Companies such as Starcity and Common offer options such as 3, 6 and 12 month leases, providing flexibility and often options to try out other communities within their portfolio.  Going back to my original 'moving to New York' example, the draw of moving into a building where very little thought needs to go into the moving process, then being provided built in convenience and other like-minded humans, sounds relevant and disruptive to me.
Affordability:  As Cushman Wakefield points out in a recent report, "The additional density provided in co-living allows real estate owners to enjoy substantially higher rents per square foot, while still providing a more affordable option for renters."  A more affordable option for renters is imperative as we experience factors such as rising student loans, idle incomes and widespread increases in rent (an average of 20% per market).  For co-living, convenience and affordability go hand in hand.  Those looking to live in ideal, downtown locations but can't afford exuberant rent, will ultimately be drawn to this all-inclusive model.  Common showcases their potential cost savings, of over $500 on a traditional apartment directly on their site: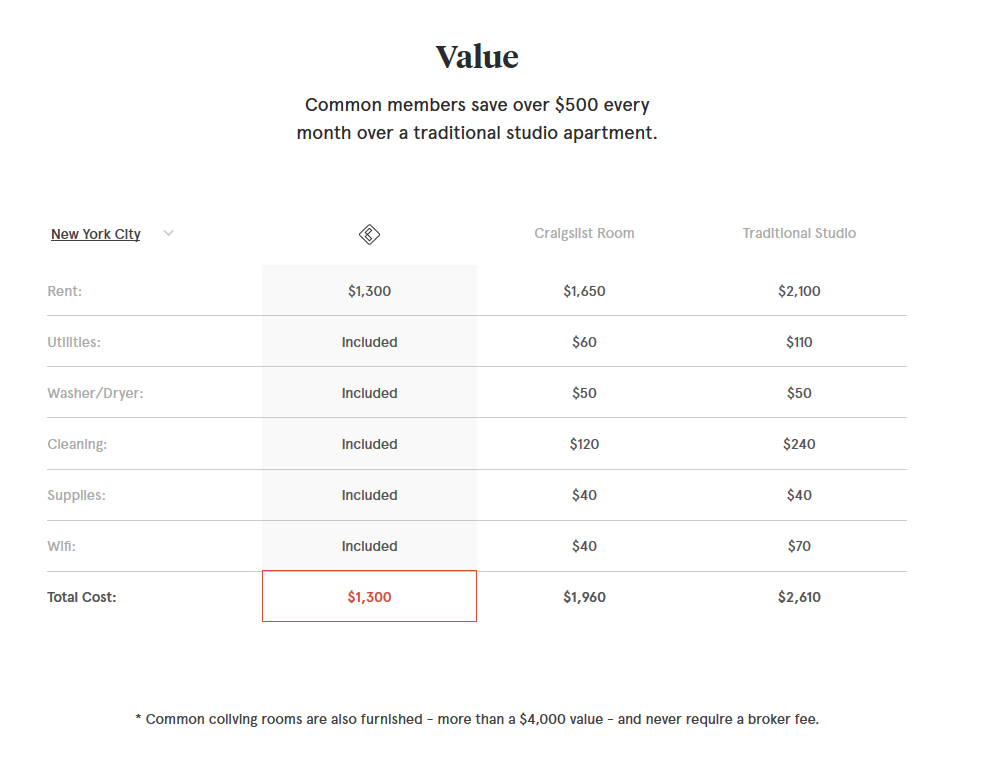 Other companies are sharing similar cost benefits providing a sense of transparency that today's consumer is longing for.
At Nine Four Ventures, we are excited for this sector to take flight.  There will be endless conversations about the pros and cons for both the owners/developers and renters but as I see it, the value it will provide to the diverse demographic of today's renters will be invaluable.  Thanks to this burgeoning model, that young renter moving to New York, looking to start their life in a new city, creating their footprint and finding a home and community seems a little less cumbersome and a lot more promising.