Setting the Stage
Before the construction of a new building begins, it is important for developers to nail down the project's budget. Developers spend months perfecting the financial plan before breaking ground, as a project's success always comes back to price. And yet, the technology (or lack thereof) that developers use for budgeting is the same that was used decades ago. Many still use static spreadsheets like excel regularly, while others are begrudgingly using Argus (founded in 1985) despite finding it rather "user-unfriendly."
There are plenty of developers (especially those nearing retirement) who are content with the status quo (read: manual entry that is time-consuming and error prone); they worry the cost (in training time and dollars) isn't worth the reward of automation. Developers who have been using Argus for years (and have all their employees trained on the platform) question whether switching to a newer, more integrated player will result in a positive ROI given the initial capital outlay and productivity loss that comes with learning a new tool. In addition, concerns surrounding the ability to build platforms that can truly flex well with the nuances and complexities of each unique development project are valid.
Having said that, it still feels antiquated and inefficient that, in 2023, financial planning often begins from scratch for each new engagement & looks largely the same as it did over 30 years ago. There are a couple of different studies that attach some numbers to the problem & highlight the financial impact:
In 1989, the Construction Industry Institute estimated that the US construction industry wasted more than $15B per year on rework expenses (Source).
In 2009, the National Institute for Standards in Technology, pegged this figure at $94B, which was 10% of total spend (Source).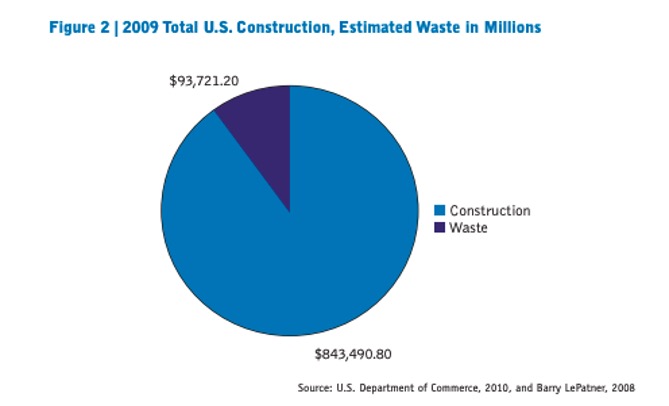 And then most recently, FMI released a study that the industry spends a whopping $500B annually on rework (Source)
It seems fair to conclude that this problem hasn't gone away, nor is it getting better over time. In fact, the introduction of new regulations may be making it even more challenging to reduce wasted spend and we may continue to see this figure climb over time. For example, the Buy America provisions in the 2022 Bipartisan Infrastructure Bill require any construction materials procured under FTA awards to be manufactured in the United States (Source). This will likely increase costs for developers. In addition, some of the labor mandates in the Inflation Reduction Act are causing project delays, which also contributes to dollars wasted (Source). Specific examples of these mandates include the obligation for companies to (1) pay certain workers a "prevailing wage" (i.e., at least the average wage in the respective area) and (2) employ a certain number of "qualified apprentices" (i.e., those participating in the U.S. Department of Labor's Registered Apprenticeship program or the state equivalent). The time it may take to identify and hire those that qualify can lengthen the timeline of a project. (Source)
Current Environment
However, there are some bright spots indicating there may be a light at the end of the tunnel. Public company Procore (founded in 2003 and valued at $6.9B at the time of publication) offers a cloud-based construction management system and just 18 months ago (in June 2021), launched its preconstruction toolkit that streamlines the budgeting and estimating process. The platform uses projects' drawings and designs to automatically calculate costs prior to building and then tracks actuals to plan throughout the construction timeline. In 2022, customers of the product reported 52% fewer non-recoverable change orders, 16% reduction in rework and ability to manage 48% more construction volume per employee (Source). However, the target customer for Procore are mainly GC's and subcontractors, not developers. And developers are in desperate need for a tool like this.
It's possible that a player like Nine Four portfolio company Built Technologies can be the one to answer this call. Founded in 2014, Built started out as a construction loan management platform but has since expanded its product offerings tremendously over the last few years. In addition to loan management, the company now offers payment, trade partner, and lien waiver management products, among others. Only time will tell if Built will be the one to develop the budget planning tool that developers are looking for.
The Challenges
Addressing this gap in the market will be no small feat. For one, the number of large developers that have a high willingness to pay for such a tool is limited. And these companies will have to overcome the fact that some large developers believe that the systems they've built in-house are superior to what any 3rd party can provide. On the other end of the spectrum, there are SMB developers (the long tail of the market) who could benefit tremendously from a budget planning offering (arguably even more so than large developers), however their lower willingness to pay and fragmented nature (read: expensive to acquire with less upside) makes it difficult for startups to scale efficiently. An up-start that captures this developer segment will need to have an efficient and creative customer acquisition strategy to succeed.
Looking Ahead
Evidently, although we're not near mass adoption, there has been some increased founder and investor attention in the space. Newer PropTechs such as Ingenious.Build (founded in 2016), Northspyre (founded in 2017), Banner (founded in 2018), Zebel (founded in 2019), and Scoro (founded in 2013, although not focused exclusively on construction), have set out to seize this massive opportunity.
So, what's still missing? What remains to be built that the more mature private companies and the younger startups alike should be focusing on?
It may seem paradoxical but developers want to see (1) more customization and yet (2) more automation. They see the advantages that AI/ML can offer (i.e., saving time & money, removing mistakes from the equation), however, are not willing to compromise on ensuring that their unique strategy/approach is melded into any technological tool they bring on board. For them to see real value in a software purchase, they'll need to see new companies strike the balance between these 2 (somewhat opposing) sides of the seesaw.
In addition, integrations are the name of the game. To put things in perspective, Procore (which is known to be very integration-friendly) has secured over 400 integrations (Source), a factor that has likely been a key driver of success. Developers don't want to be flipping back and forth between multiple systems; that wastes time and increases the likelihood for errors. Target customers will be looking for all of their systems to be talking to each other (a good demonstration of this is Agave's API). If a budget planning tool doesn't offer that feature, it will likely be a non-starter for many developers to even bother piloting its technology.
Lastly, picturing the ideal future state, there is a need for one platform to establish different interfaces for all stakeholders involved in real estate projects. Today, some companies are focused on developers, others target GCs, while a 3rd group caters to owners/operators. This creates friction and misalignment between parties. We need one source of truth! And it will be interesting to see if one of the existing players wins that battle or if an entirely new player surfaces to tackle the opportunity head-on.
Author: MBA Associate Intern, Rachel Aboodi