The real estate market has been experiencing longstanding highs. In fact, the median sale price of homes sold in the United States during the second quarter of 2022 was $440k. This is up more than 36% from the median home price in the second quarter of 2020, just two years ago[1]. Additionally, 30-year fixed mortgage rates continue to hover around 5% — down from recent highs of ~6%, but still up from <3% lows in December of 2020[2]. On top of this, current widespread economic turmoil —including increasing rates, high inflation, labor shortages, supply chain challenges, etc. — has left us somewhat uncertain about what indicators like these mean for the greater real estate market.
According to Urban Institute, increases in mortgage rates are not necessarily the root cause of annual home price appreciation. In fact, when pooling together historical data, there is a significantly stronger correlation between annual home price appreciation and inflation than there is between annual home price appreciation and annual changes in mortgage rates[3]. With such high inflation rates occurring over recent months, this explains soaring home prices. However, as we enter into a GDP-defined recession, the FED continues to raise interest rates, and consumer sentiment decreases, it begs the question: will there be a subsequent contraction of the overall real estate market?
---
[1] FRED, Median Sale Price of Houses Sold for the United States
[2] FRED, 30-Year Fixed Rate Mortgage Average in the United States
---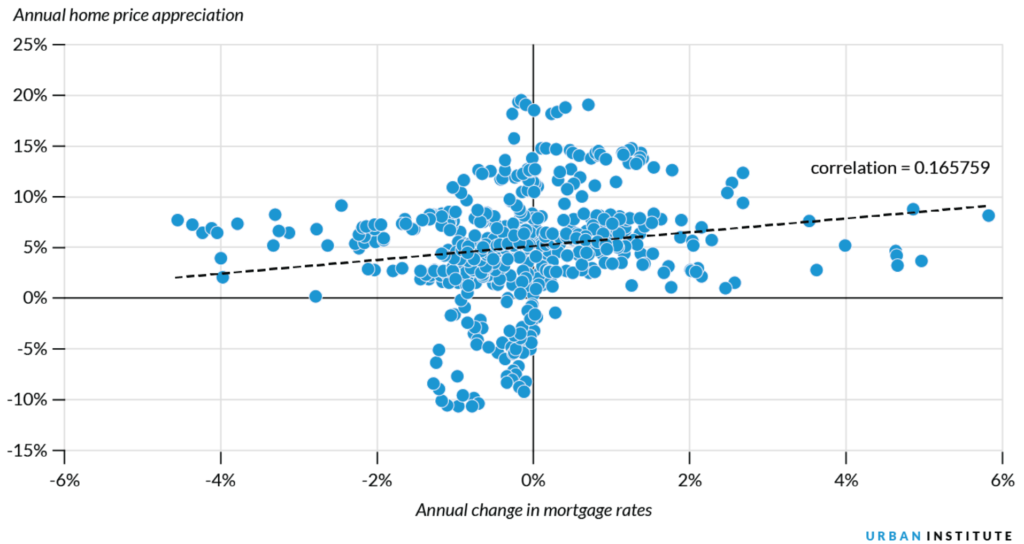 To answer this, we can compare previous recessionary indicators to those of today. Certain financial, economic, and consumer confidence metrics may provide insight into how the markets are forecasting a recession. The current inverted yield curve, tightening money supply, and wide credit spreads are concerning economic indicators; historically, they've forecasted economic contraction is on the horizon. On the other hand, increasing profit margins and decreasing unemployment may indicate the opposite[1]. For these reasons, it is uncertain whether 2022 will bring the next big crash.
---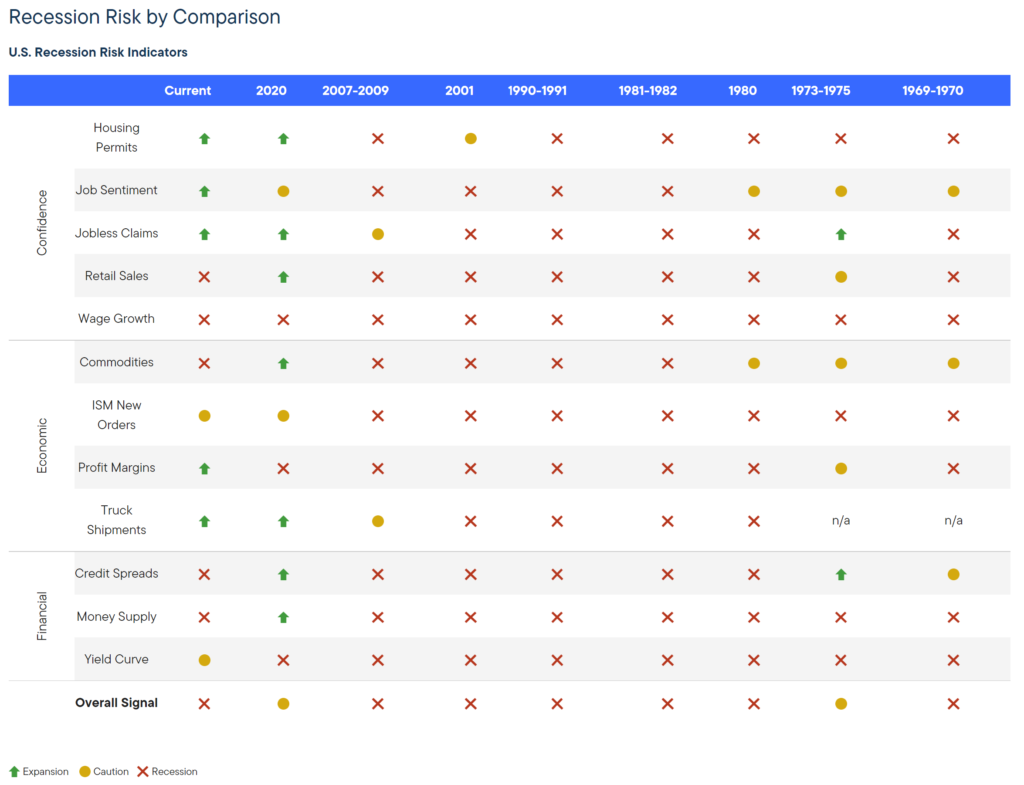 Regardless of whether a recession is in the near future, though, it's important to think about what this possibility would mean for real estate. Despite initial inclination, an economic downturn wouldn't necessarily incite falling home prices. In fact, prices have historically remained steady and/or risen during economic contractions. This means that, although mortgage rates may become higher, prices won't necessarily falter[1]. Average consumer home affordability doesn't necessarily paint the same picture, though.
To truly calculate how affordable housing is for the average consumer, we can compare median household income with median home price. Even back in 1980, when mortgage rates were at all time highs and real estate prices seemed to soar, median income hovered around 35% of median home price. Fast forward to 2008, and this number had come down closer to 15%. Today that metric is around 10%. It is likely that home sale price increases will need to slow down quite a bit as they wait for wages to catch up in the near future.
---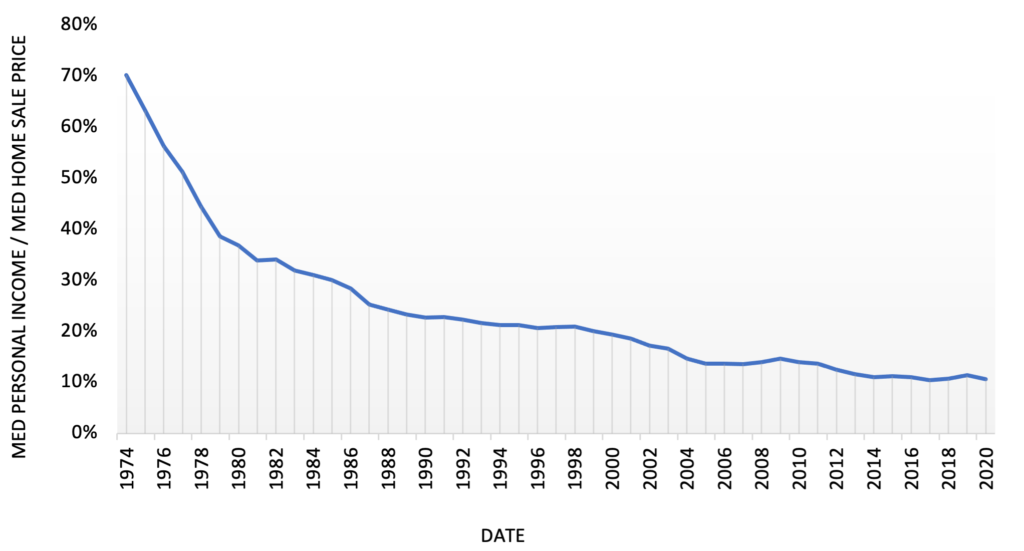 What This Means For Nine Four
Transition To Rent
As mentioned earlier, homeownership is becoming increasingly unattainable for the average consumer. For this reason, more people may look to rent for longer periods of time. Software like Bungalow and Pronto Housing make it easier to offer creative housing solutions to combat this issue — whether that means co-living, compliance, or easier renting processes.
Improving Insurance
Another way that real estate professionals can attempt to increase margins is by making their insurance plans work for them. A wide variety of InsurTech companies are targeting the PropTech industry since they can offer attractive plans with more coverage (i.e. lower risk) at potentially lower premiums. Nine Four portfolio companies like Agentsync, Handdii, Steadily, and Trustlayer are redefining how insurance policies and claims are sold and managed, respectively, throughout the built world.
Harnessing Data
Finally, real estate will look to improve margins in new ways by modernizing end-to-end processes. Developers and managers across the board will have to take a deep dive into their data in order to locate and dispose of inefficiencies within their businesses. Nine Four portfolio companies such as Built Technologies, Openspace, Inspectify, and Crosswalk are just a few of the companies offering advanced data analytics solutions that can provide real estate professionals with a clearer picture regarding property management.
In the coming months, it will be more important than ever for the real estate industry to further develop its processes and dissolve longstanding inefficiencies. Real estate professionals will have to become savvier while waiting for markets to stabilize, and PropTech can support them in doing this. We believe that this indicates a positive near-term outlook for the PropTech industry as a whole, and therefore a strong tailwind for Nine Four.
---
By: Valarie Sherr (Nine Four Ventures Analyst Intern)