It's 2018: a civilian is being sent to the moon, robots can answer the phone, Alexa (your talking speaker) can chat with you about pop culture and SLOWLY but surely, real estate is becoming accepting of technology and other disruptive concepts.  With so many innovative new startups in this space, the adoption is unavoidable and more apparent than ever before.
Multifamily is particularly slow to integrate some of the offerings that are now available, and when new concepts are creating financial security and alleviating major pain points, my advice is to be open-minded and consider the change hugely beneficial.
Stay Alfred, a Nine Four Ventures portfolio company, is building something I would categorize as game-changing with respect to multifamily. The travel apartment pioneer has developed an impressive model in the alternative accommodation space that is paving the way for a new standard of short term rentals and a value-add for property owners, developers and tenants. To go into even more detail about how and why Stay Alfred is benefiting the multifamily community, I sat down with their VP of marketing, Eric Anderson.
Q: For someone who's never heard of Stay Alfred, how would you describe the company in one sentence?
A: Stay Alfred is a pioneer of the urban alternative accommodation space. It leases and manages upscale travel apartments in premium downtown neighborhoods and leverages proven best practices, in-house land-use legal expertise to offer a tech-enabled hospitality platform.
Q: How does it work?
A: People discover Stay Alfred travel apartments in all the same places they shop for hotels, including online travel sites like Booking.com, Expedia and our own website. Once a guest makes a reservation, they are engaged in a tech-enabled experience that includes a virtual concierge which can be accessed through our branded app. Everything they need, including detailed check in instructions, tips on local attractions, opportunities to provide feedback, and a guest loyalty program (coming soon), is stored in the mobile app, making the experience extremely simple and convenient for travelers.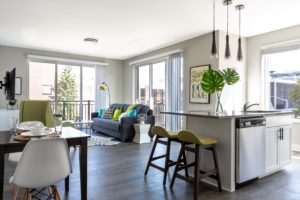 Q: As a developer, property owner or manager why would a concept like Stay Alfred be beneficial?  What impact will it have financially?
A: That's a great question and there are several benefits. With building regulations and material costs both on the rise, property owners are looking for ways to decrease operating expenses, add financial security to their model, and to minimize vacancy loss and the associated costs. While the financial gains are unique to each property, it's common to see an NOI boost of up to 25% when a Stay Alfred travel apartment program is added. Because Stay Alfred leases are multi-unit, multi-year contracts, often with an annual escalation clause, the program can have a profound impact on a developer's proforma year after year.
Q: How will Stay Alfred affect long term residents?
A: Because the integrity of our relationship with properties and their long-term residents is critical to our business, we have honed our operational model over the last seven years to guarantee a light community footprint, a strong resident benefit program and 24/7 support should an issue arise.
To build good relationships with long-term residents right from the start, we always host meet & greet events to provide residents with these assurances. We also deliver additional amenities to long-term residents: they receive a "Green Ticket" – entitling them to a 15% discount in any of our 80+ properties coast-to-coast, as often as they like. They also receive a complimentary "Friends & Family Stay" during our first month in the property.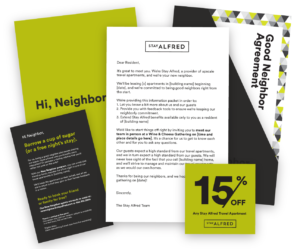 Of top concern to residents is building security. Stay Alfred security protocols are actually stricter than what is typically found in a hotel or vacation rental. Completing a reservation is only the first step for a guest to gain access to one of our travel apartments. We conduct a two-step public records search and criminal background check using a third-party validation system, we require guests to submit a driver's license, and we require guests to agree to our Terms & Conditions which prohibit parties and include a strict noise policy which is reinforced with noise monitors in every apartment. Because we carefully follow these management best practices, we have hosted more than 500,000 guests without a single major security incident.
Additionally, to minimize traffic in common spaces, our guests arrive with check-in procedures that get them directly into their apartments. When our guests have access to amenities like pools, gyms and lounges, they are bound by all rules that the property's management puts in place.
Q: What technology do you have in place and how does it set you apart?
A: Stay Alfred has unique DNA, blending expertise in commercial real estate, hospitality and technology. At the center of our guest experience is our tech-enabled guest experience that starts the moment a reservation is made. From our mobile app, guests gain access to the virtual concierge with detailed check-in instructions and important building details, all in one spot. When a guest checks out, they can review their experience in the app and, soon, they will be able to accrue and manage their customer loyalty rewards.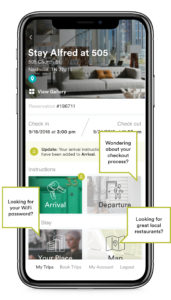 Q: What type of properties does Stay Alfred look for?  Expansion goals?
A: A big differentiator for Stay Alfred is consistently offering the best urban locations. Our guests want to live like locals, which means being able to explore a city's best restaurants, entertainment and other attractions on foot. Most of our properties are downtown, Class A buildings that are new or have recently been renovated.
Stay Alfred pioneered the travel apartment concept, and we're in it for the long haul. Unlike our competitors, we have focused exclusively on sustainable expansion in downtown, Class A multi-family properties under mutually beneficial long-term master lease agreements. Consequently, we operate legally and reliably across our portfolio, delivering fair exchange to our real estate partners. We also devote considerable mindshare and resources to delivering this mixed-use approach in a way that balances the needs of long-term residents and short-term guests, so that the model we have built has the staying power to become a component of every multi-family development in the years ahead.
Currently, we're in 29 US cities and have plans to add another five to ten markets in 2019. High on our list are New York City, Los Angeles and San Francisco – all markets with regulatory challenges that we are working through. If you own a building that would make a great Stay Alfred destination, please contact us using the form on our website (httpss://stayalfred.com/parthership).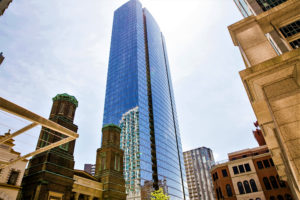 'Taking a risk' on a company like Stay Alfred may actually eliminate the risk that so many owners have been struggling with all along.  As Eric pointed out, building owners are seeking out ways to increase occupancy, minimize expenses and add financial security to their multifamily assets. Progressive models such as Stay Alfred have the ability to give owners what they're looking for, but it requires an acceptance of change, a shift in focus and a willingness to steer away from their comfort zone.  Perhaps I'm biased, but I believe all signs point to 'reward'.