It's not hard to see that the ecosystem of employment and work is changing rapidly, and will continue to do so. The rise of the gig economy (from Uber and AirBnb to freelance programming), job automation through advances in AI and robotics, and increasing demand for flexible work arrangements (remote work, distributed talent) are all emergent trends with massive impacts on the Future of Work, particularly in advanced industrial economies.
The Future of Work – that is, the new paradigm of interactions between workers, jobs or employment arrangements, and their physical/virtual workspaces – has significant implications for the Real Estate sector. Narrowly, this obviously affects how we use and design office spaces in the Commercial Real Estate footprint – but it also affects how much corporate office space is needed, as well as where people live, how people commute between home and work, and much more. Below I've outlined some of the major trends in shifting labor-employment dynamics and how they may impact the 'built world' and the industries that serve it.
The Future of Work: Major Trends Affecting the 'Built World'
Work is becoming increasingly modular and independent, as both workers and employers demand flexibility. Indeed, the Gig Economy and the 'independent workforce' – non-W2 workers such as contractors, freelancers, and housekeepers – has grown over the past decade by 5% annually to a level of ~54M workers in the U.S. (30% of the workforce), and it's expected to potentially grow to 85M-90M by 2027. More interestingly, the demographics of this segment are not significantly different from the overall workforce, and an increasing share of participants in the independent workforce (60%) do so by choice. Both of these factors provide evidence that this relationship is the 'new normal'. Consequently, this more-transactional, 'free-market' approach to labor markets means that workers are managing their own hours, income and contract documentation, and professional development like never before; additionally, the vast majority of these freelancing workers will complete most of their job responsibilities in physically distributed locations rather than centralized workspaces like the traditional office, warehouse, or retail storefront. 70% of HR managers say they are already using 'flexible talent' such as freelancers or temp workers, and 62% have embraced it as a permanent strategy given talent demands and shortages.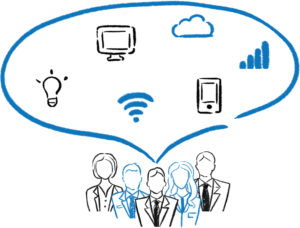 However, even for workers that remain in the traditional W2 workforce, demands for more flexibility in when, where, and how employees work will continue to rise. As high-skilled talent becomes more important, companies are seeking flexibility in their real estate footprints to locate closer to talent hubs and to provide attractive workplace features or policies that fit with Millennials' desires (such as part-time remote work). Relatedly, Deloitte research suggests companies in the future will be looking for a built environment that nurtures a sense of community, purpose, and collaboration to suit the nature of knowledge-sector work and its workers, and that accommodates more co-working or 'teaming' spaces with less dedicated desk space. Studies repeatedly show employees are not at their desk 50-60% of the time.
Lastly, as artificial intelligence and machine learning continue to accelerate the pace of automation, a number of jobs will be fully or partially displaced; a now-famous Oxford University study from 2016 estimated as many as 47% of current jobs will be automated. And it's not just going to be cashiers – as professions like claims adjusters, accountants, and even radiologists dwindle, so does their need for physical workspace. Reduced demand for office or other workspace means more competition among building owner-operators. Moreover, the workers that do remain will likely be supplemented by automation technology and spend more time doing human-centered or high-skilled knowledge-related tasks, which could place new demands on building owners-operators in how they design and manage the spaces (more below).
Implications for Specific Real Estate Industries
The New Workspace: Developers and owner-operators have a role to play in building environments that are more than just square footage, and technologies are on the horizon to make it happen. Based on the trends outlined above and the fact that only 57% of enterprises think they have a productive workforce, commercial tenants are demanding office spaces that are move productive and more 'full-service', requiring a shift from 'Landlord' to 'Service Provider'. The new standard will be Smart Buildings with coordinated, value-added service offerings such as workspace-usage analytics, augmented-reality capabilities, tenant-specific layout/design assistance, and vendor coordination (e.g., meals, dry cleaning). Nine Four Ventures is interested in investing in the ecosystem surrounding this new CRE office paradigm, such as motion-capture sensor technologies, office furniture and design startups, and community management companies that coordinate and/or provide amenities for tenants' employees.
Coworking 2.0: We're not breaking any new ground heralding the permanence of co-working – the co-working market has grown 26% annually for the past 5 years and will have over 5M workers globally by 2021. But co-working spaces like WeWork are just the tip of the iceberg when it comes to handling the new distributed and flexible workforce; what will need to develop in the coming years is an entire spectrum of offerings including everything from the traditional lease to dedicated flexible workspace to a few extra desks in a café or an existing office. Companies like Convene are on the cutting-edge of developing modular and comprehensive workspace/event solutions for companies and employees, and Nine Four Ventures is looking for opportunities to invest in other companies thinking more holistically about workspace solutions. One of our portfolio companies, BeyondHQ, currently operates in this space by helping high-growth companies with their location expansion, offering an end-to-end solution that manages everything from city selection to talent acquisition to workspace leasing and design.
Additionally, with the home and work increasingly blurring, so will co-living and coworking solutions. As freelancing and remote working continue to grow in popularity, so will the need for spaces where high-skilled talent can live and work with built-in communities and collaboration spaces. 4.3M Americans already work from home at least 50% of the time and that figure is growing at 5%+ per year, driven by the fact that 80-90% of U.S. workers say they want to 'telecommute' at least part-time (2-3 days a week); meanwhile, the U.S. projects at least 50% of jobs are compatible with part-time remote work, and companies are becoming increasingly amenable. Several early stage companies – such as Roam, Outsite, and Quarters (under Medici Living) – are already exploring the concept in a standalone format, providing further flexibility to their customers by allowing them to live in any buildings in their network across cities. But there are also opportunities for multifamily residential buildings and hotels to supplement their living accommodations with co-working spaces to attract this segment of workers.
Modern Construction, Modern Hiring: Building construction is a notoriously tedious and costly process, with productivity in the industry only improving 1% annually for two decades. Our portfolio company Built is helping address inefficiencies on the financing side by digitizing and simplifying construction loan draw management. But there is also a massive inefficiency related to hiring, coordinating, and paying the contractors and subcontractors involved in a project. While the gig economy platforms and marketplaces of today are primarily focused on either low-skilled tasks (Uber, TaskRabbit) or high-skilled knowledge work (like programmers), more professions will migrate on to these platforms – particularly where labor is fragmented. Home Services and Home Maintenance are examples of professions on this next frontier, and marketplaces like Thumbtack and Porch have already made serious headway. Trade labor marketplaces or platforms servicing construction project could help seriously improve efficiency in this industry that represents $1T+ in wages annually.