As we all know, Millennial and Generation Z buying habits and preferences are changing. They rent apartments rather than buy homes for longer periods of time, switch jobs and move locations more frequently and have less savings than previous generations. However, business buying habits and preferences are changing too! Today's modern workplace is shifting towards a more dynamic, fast changing and disparate environment. As a result, high growth startups need to keep up and provide the newest and best office amenities to keep employee retention high and churn low in this competitive recruiting marketplace. Thus, the way employees live and work is driving the on demand economy (Uber, Postmates, Bird, Rover). People expect the immediate convenience and flexibility of not only transportation and food but also even hard goods such as, furniture!
Until now, large incumbents, such as, Cort, Herman Miller, Knoll, and Steelcase with market capitalizations of >$1B have dominated the $50 billion furniture industry. Some have been in business since 1865! Those players have traditionally relied heavily on a complicated supply chain involving a network of broker/dealer middlemen (to assist with distribution) adding unneeded complexity, cost and time to the customer experience. As a biproduct, unfortunately, furniture buying has been difficult, expensive, slow and inflexible. Luckily, a few brave tech-enabled startups, such as, Feather, Fernish, Oliver and Bureau have mustered up the courage to take on the industry incumbents to offer an easier, cheaper, faster and more flexible solution with the same high quality product offered by industry incumbents.
Feather, Fernish and Bureau are able to provide a better customer experience through multiple ways. First, those startups create simple, beautiful furniture arrangements online whereby streamlining the search and discovery process for both individual apartment buyers or office managers. Buying a single furniture piece or a collection to furnish an entire room is as simple as clicking a button. Second, their solutions are cheaper because they remove broker/dealer middlemen and leverage online and strategic real estate channels for customer acquisition. Third, startups can offer faster delivery (1-2 weeks vs 8-12 weeks) because of the limited number of SKUs offered and modular design. Lastly and most importantly, those startups can provide the most flexible furniture solutions allowing end users to buy, exchange, rent and/or return furniture at any time. In addition, previous monthly rental payments can be placed towards the purchase of a specific item if the end user changes his/her mind about renting and buying.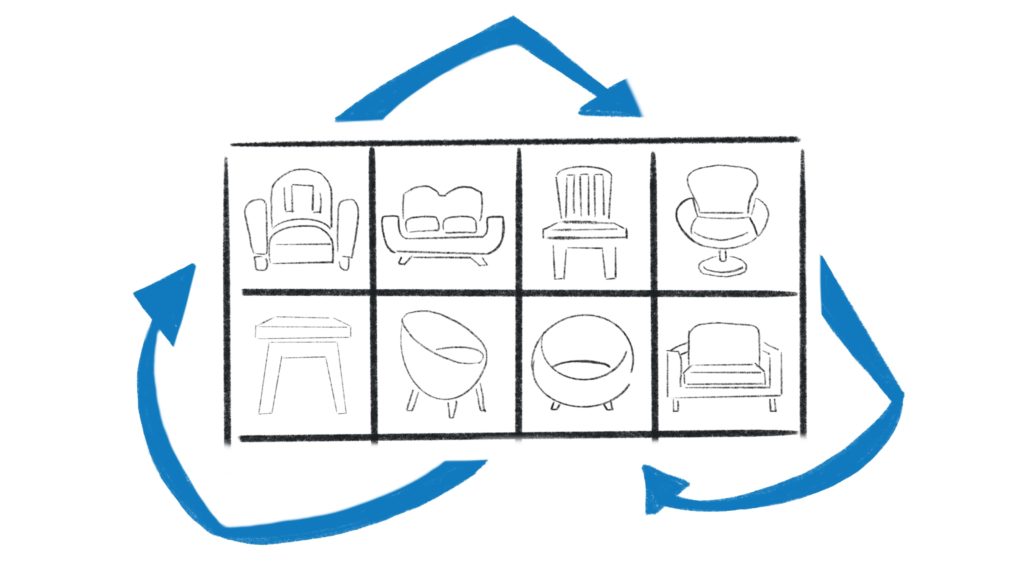 That said, offering the flexibility of renting or returning is particularly challenging. Refurbishment requires warehousing, inventory and labor in addition to new customer re-acquisition costs. However, if these startups can successfully manage refurbishment cost effectively by leveraging the market shift, software and modular technology it could meaningfully extend the useful life of items, increase lifetime value of products and drive margin expansion. This creates a not only unique activity system but also differentiated sustainable story that resonates with customers.
It would be a mistake to understate the complexities of the furniture manufacturing and delivery process. This supply chain requires technology to create a seamless experience from start to finish including: building to order, shipping, last mile warehouse pick up, delivering, assembly, inventory management, returning and refurbishing. The incumbents have many resources (ie capital, knowledge, activity systems, etc) available to them. However, software is not in their DNA. Given their supply chains and partnerships are already well established and were built for the purchasing behaviors and patterns of prior generations, it could be challenging for them to adapt fast enough. Thus, Nine Four Ventures is betting startups can build the cheaper, faster more flexible product end customers desperately need well before the incumbents can.