A previous post I wrote theorizes that the future roles and number of residential real estate agents are very likely to change as technology replaces many jobs that an agent was traditionally hired to perform. I'd like to shift from that higher-level theory to something more granular and discuss what I think agents will need to do to compete for sides in the future.
In the last few years, the number of Realtors in the US has increased at a faster pace than sales. This implies more competition between agents and highlights the importance of standing out among an agent peers to win listings. Technology will be a driver of this, as technology solutions can efficiently leverage data, communication channels, relationship information, and indicators of home sale/purchases to make agents more productive.
What's the status quo?
Today, the relationship between an agent's time, commissions, and marketing/advertising spend looks something like this:
It's no surprise that referrals are the most efficient, effective way to drive commissions. When you can leverage existing clients to bring new clients to your door with minimal additional time or effort, it's a recipe for success. The next most efficient segment is an agent's "sphere of influence" (a definition of "sphere of influence" I like is that it is made up of the people in your network with whom your opinion holds weight). Depending on who you ask, upwards of 65% of an agent's business comes from their "sphere of influence". This is a reason why real estate agents will continue to claim that it's a people business – it is! The more people you know, the more efficient business (referrals) they can drive. It's a critically important segment to grow as an agent, and one that self-reinforces over time. Compounding effects of your sphere are critical to understand. Young agents spend a lot of time developing their sphere and unfortunately must wait until the folks in that segment buy or sell a home – the time required to do so may be longer than an agent can stay in business, and depending on your age, market, and income association, your "sphere" may take a while to time correctly.
The last bucket, cold leads, is unfortunately where a lot of agents get caught up. They buy leads and must pound the phones to find and qualify leads. Lead sources are everywhere – they're non-exclusive, of unpredictable quality, and expensive. That said, it can work to pay up and grind on this segment. Zillow Premier Agent dollars are through the roof. There may be a positive ROI, but on a relative basis it is not the best way to spend time or dollars. Warm intros and your "sphere" are.
In continually assessing the startup landscape and solutions for the industry, we came across First, a company that is building products that help agents be more efficient. The First product ingests an agent's contact lists and databases and analyzes 700+ indicators for each contact to rate their likelihood to sell their home. By sorting and scanning these ratings, an agent can decide who they should be spending time with to find a seller. On the graph below, First informs the "likelihood to sell", while an agent considers the depth of their relationship to determine the best means of communicating with that person. The people an agent should spend time and money on are in the top right.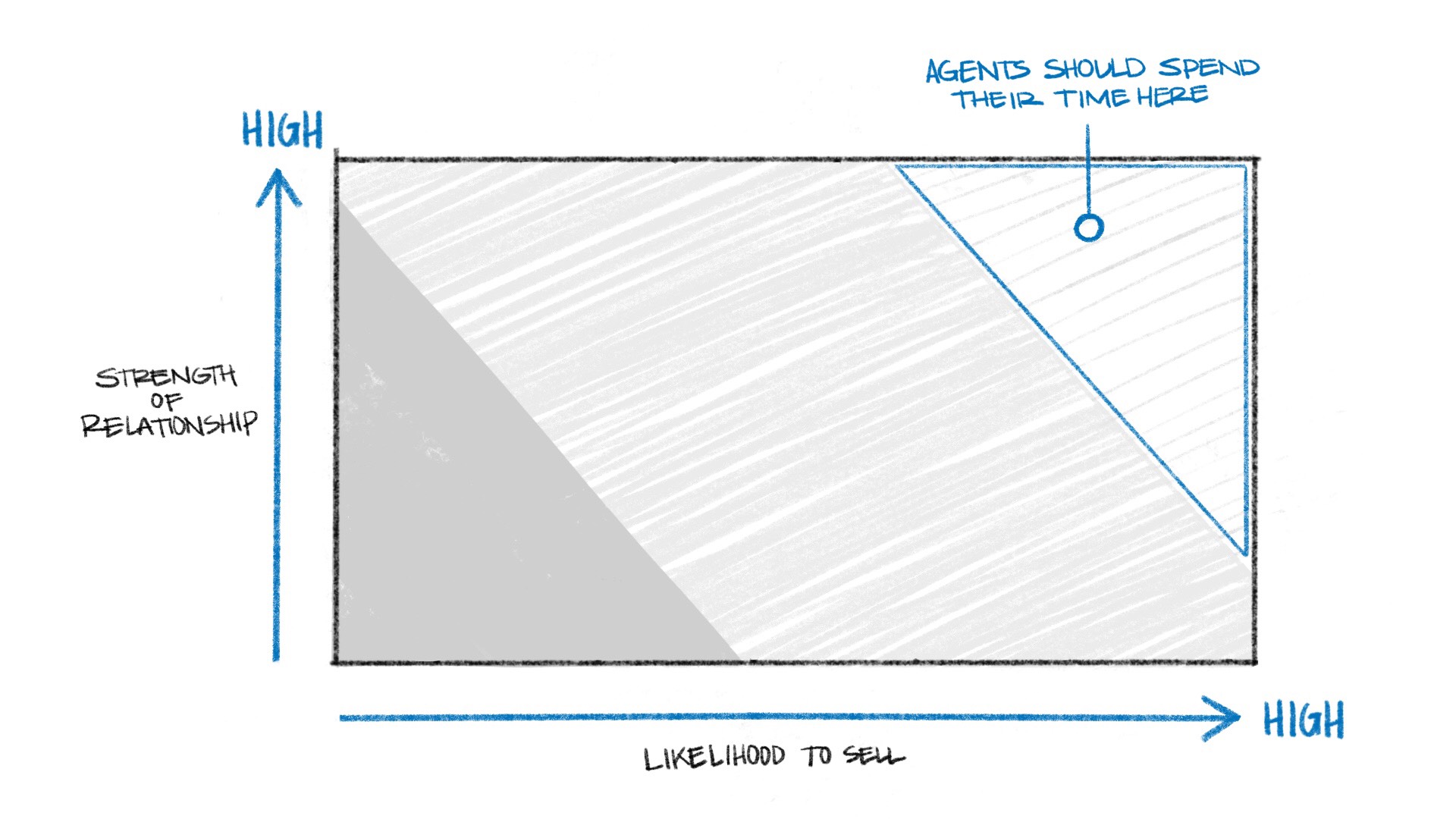 First is not alone in realizing the impact that predictive analytics can have on an agent. Coldwell Banker recently released CBx Seller Leads that allows CB affiliated agents to identify potential sellers before they list, Gary Keller continues to push KW to be a "technology company" that leverages predictive analytics, and RE/MAX and the rest of the major players are all designing their own technology backbones to include this. Small to medium-sized brands likely won't have the capital to build or maintain this themselves, which opens up a massive opportunity for a company like First. In the very near future, if a brand or broker cannot provide technology tools like First that enable them to attract and retain agents, they'll be left behind.
Predictive analytics is a sliver of a broker or agent's technology stack, but it's a very meaningful one. Winning business is the first step to success, followed by delighting a client to the point where they'll refer you and drive more business.
*It's worth nothing that there are other operational models that drives agent efficiency. For example team structures are increasingly common and rely on the comparative advantages of individual team members to maximize output across the entire team. Communication frequency and channels can be shorter-form and technology driven and leverage innovations such as chatbots.