An article from WSJ this week highlighted a shift in strategy for several high-profile PropTech companies:
"Real-estate startups are retreating from a growth-at-all-costs model, casting aside an approach that has worked for many internet companies but has sputtered in the concrete world of office buildings and lodging properties… Residential real-estate broker Compass, which has raised $1.5 billion with a fast-growth model, hasn't expanded into new markets since 2018. Knotel, a flexible-office company that grew aggressively, slowed down its expansion in the fourth quarter, according to a report by CBRE Group Inc., and recently laid off 5% of its staff, the company said. The hotel company Oyo also recently laid off employees and signaled it would moderate the pace of growth."
Our team has largely seen a similar shift in thinking for other PropTech companies, even those that haven't raised the massive amounts of funding the aforementioned companies have. That said, it's hard to understand just how long this mentality will hold up.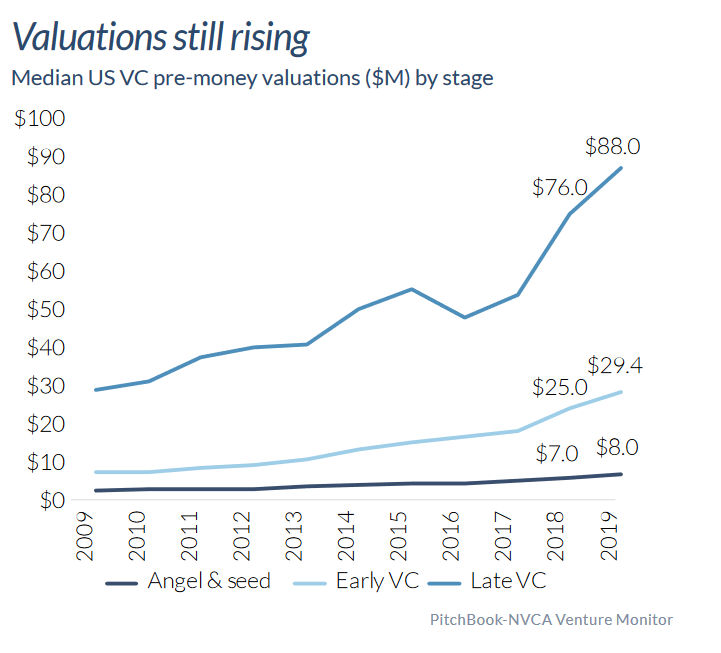 Taking a step back, the PropTech space overall continues its evolution. According to CREtech, 2019 saw ~$30B+ invested in the PropTech space globally, keeping the annual trend of continuous record-breaking years of funding alive. VCs have been pouring money into companies in a 'capital arms race' with high burn and a focus on growth (many will point to Softbank, but 'mega-rounds' have been happening for a while now without them), but a big caveat here is that there is still record dry powder on the sidelines, and valuations continue to rise. There is also a looming presidential election.
It feels like a recipe for uncertainty in 2020, but again, with so much capital on the sidelines I wonder just how long investors are going to want to remain patient and potentially write smaller checks, or wait for slower growth. For whatever it's worth, (and also noted in the WSJ article), fueling capital-intensive businesses before business fundamentals are in line doesn't appear to make much sense, but nobody wants to be holding the bag and be the last one without funding.
As Bill Gurley mentioned back in 2015, "It's like the old adage, [when you're] handing out dollars for 85 cents, you can go [infinitely]," he said. "Chosen unicorns are being given hundreds of millions of dollars, but you have to ask how much margin is there. The unit economics [referring to Instacart] would be very difficult, I'd think."
While fast-funding tends to lend itself to advantages in winner-take-all or winner-take-most markets, it can be argued that the companies the WSJ mentions aren't in that camp. However, a strong balance sheet is critical for startups who want to operate real estate, so those massive capital infusions can unlock growth to a degree. In the real estate world, reputation is important, and if a startup develops a trusted reputation among real estate operators, it could be additional fuel on the growth fire (at least in terms of the number of units a company can operate – margin expansion and unit economics are another story).
I'm interested to be involved as this plays itself out and the types of businesses that will ultimately win-out. If Bill Gurley is right, and this is just like '99, we could be in for quite a few flames.