Construction Technology Market Map | Nine Four Ventures
"Construction plays a critical role in the US economy. The industry employs millions of workers and involves trillions of dollars every year. However, construction has notoriously been plagued by high costs and low productivity and has been slow to adopt technology. This was evidenced in the infamous McKinsey report highlighting how construction was the only American industry less productive in 2010 than it was in 1960."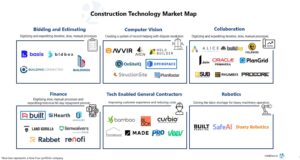 The No-Nonsense Guide To Reopening Your Office | Branch
Reimagining your workspace to keep your team safe and healthy doesn't have to be expensive or complicated. In this guide, we offer simple, actionable advice on re-opening your office for teams of every size and budget.
Fintech company Built releases loan-monitoring software for construction lenders | MPA
"Built, a provider of construction finance technology, had developed a limited version of its flagship Construction Loan Administration software to help lenders monitor construction and renovation loans during the COVID-19 crisis.
Built said that it designed the technology to enable financial institutions to immediately identify portfolios impacted by the pandemic."
How The Coronavirus Will Change Office Spaces | Huffington Post *Featuring Branch

"Every client we're working with has one overarching concern: how do I create a safe environment for my employees, both from a health perspective and from an emotional and mental health perspective," said Verity Sylvester, co-founder of Branch, a New York City-based office furniture company."
How Suffolk Construction Enhanced Collaboration with Trade Partners Using OpenSpace | Tom Feliz
"For general contractors, staying on top of the progress of multiple trade partners is challenging, not to mention anxiety-inducing. When things go wrong, it can be tricky to assign responsibility or figure out who is responsive for rework.
Max Sanchez, an Assistant Superintendent for Suffolk, experienced this first-hand in the midst of a Ritz-Carlton Residences project in Sunny Isles Beach, Fla. He had recently been put in charge of a critical path component of the project: the window wall system for the 53-story building that would ultimately drive the project's delivery date. After a 10-week lead time for the window units to be delivered from Brazil, the installation schedule was significantly compressed."
Real Estate iBuyers Are Back In The Game After Coronavirus Hiatus | Forbes
"Opendoor, Offerpad and Redfin are re-starting their home purchases this week. Meanwhile, during a quarterly earnings call on Thursday, Zillow CEO Rich Barton said the company is actively planning to "unfreeze" its iBuying branch Zillow Offers "within the next few weeks."
The timing of Zillow Offers' resumption, Barton said, depends on the company's ability to protect the health of employees and customers as well as the housing dynamics of local markets, among other factors."