As I read through articles about the "loneliness epidemic", there seem to be two evident schools of thought: 1. Technology creates isolation, thus leading to loneliness or 2. Technology can aid those who are lonely, both at work and home. While I see the truth to both sides, I think it is essential to recognize the value technology can bring to our lives through the encouragement of the personal connections people are longing for. Companies specifically targeted to advance and contribute to how humans live within the built world, can have a tremendous impact on a path to a healthy, fulfilled life. As awareness surrounding this subject grows, we will see more and more companies entering this space to tackle this very problem.
First, let's look at some interesting facts on the subject of loneliness itself:
Who: According to Cigna, 61% of adults report that they sometimes or always feel lonely. This represents a 7% point increase in loneliness in America from Cigna's 2018 survey
Cohabiting: More than half of American adults are unmarried. A quarter of Americans now live alone.
The social media factor: Seven out of 10 heavy social media users, 71%, reported feelings of loneliness, up from 53% a year ago. That compares to 51% of light social media users feeling lonely, up from 47% a year ago.
Social media is fostering an environment for artificial interactions, which in turn creates superficial connections. Users are lacking meaningful, human interaction.
Gen Z: Cigna's report identified Gen Z, the largest users of social media, as the loneliest generation, but also the generation that claims to be in the worst health compared to other age demographics.
Health: A 2010 study by Brigham Young University found that loneliness shortens a person's life by 15 years, about the same impact as being obese or smoking 15 cigarettes a day.
Workplace: Nearly two-thirds of workers who had been at a job less than six months reported experiencing isolation, compared to just 40% of workers who have been with a firm for ten years or more.
A study from the University of Warwick found that happiness results in a 12 percent spike in employee productivity. The study also found that unhappy workers were 10 percent less productive than the average.
Aging population: 18 percent of adults age 65 and older in the U.S. live alone, and 43 percent report feeling lonely on a regular basis
The below graph, created through the analysis of data from the American Time Use Survey, gives us an incredibly insightful idea of how we spend our time, and who we are likely to spend it with as we age: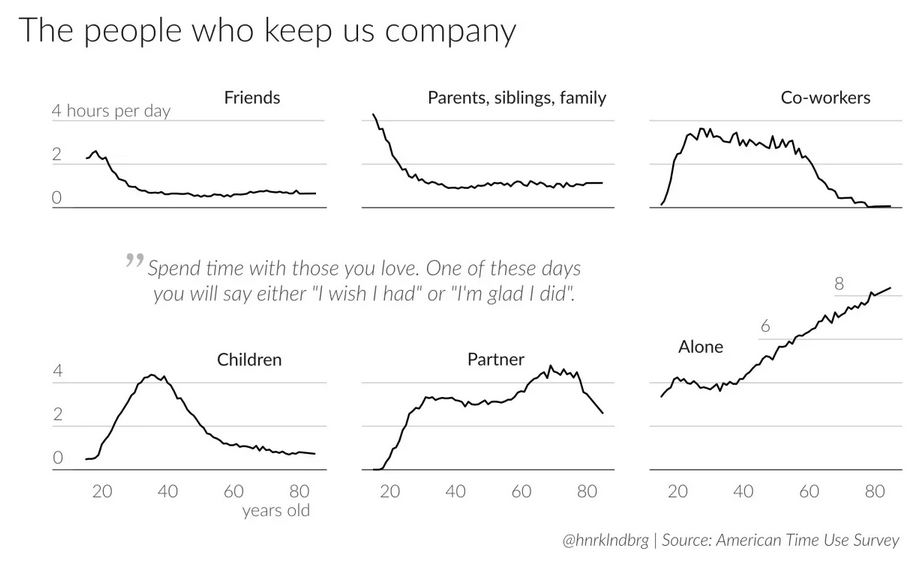 Next, let's look at some facts that suggest a sense of community can aid the loneliness epidemic:
Research indicates that there are some qualities that happy people have in common. Among these are quality relationships with friends and family members. This research also suggests that happiness impacts more than just social bonds. Happy people are more connected to the neighborhoods in which they live.
Harvard's longest study of adult life found that there is a strong correlation between happy, healthy lives and the relationships with family, friends, and community.
One of the three major factors contributing to "place attachment" is the belief that your city has plenty of social offerings, according to the Knight Foundation's Soul of the Community study.
So…how can technology help?
Of course, people want their homes to be a place of serenity, but finding that perfect mix of alone-time and an abundant sense of community can provide for a healthy, happy existence. Through the PropTech lens, we often see startups looking to tackle health and wellbeing in both multifamily and office. Within multifamily, the tenant engagement space has become extremely robust. Applications that help encourage communication among tenants through direct messages, events, and wellness classes not only provide for happier, healthier residents but can also contribute to positive resident retention.
hOp, a tenant communication app, allows tenants to interact safely. On their website, they share: "An average American apartment complex of 500 people creates 124,500 possible relationships, and according to our data, less than 2% of residents are connected #IRL (in real life)." Their mission: "To create communities where it's safe and simple to help Other people." Other tenant experience platforms such as HqO offer similar value, not only within multifamily but the workplace as well. The platform allows tenants in commercial properties to use its technology to gain building access, search for nearby amenities, and message the community. As their site states: "tenants spend more time at work than they do anywhere else," creating connections, community, and introducing nearby amenities can enhance the overall wellbeing of employees, which can ultimately increase productivity.
Similarly, we see technology solutions in the senior living space. K4Connect transforms senior living homes into smart communities with their solutions ranging from wellness, engagement, voice controls, monitoring, and insights. Their website states: "Historically, these demographics have been wholly underserved by technology, yet, if done right, they would stand to benefit from it the most." With 43% of the aging population reporting feeling lonely, this space has vast room to develop.
We also see tech-enabled co-living companies address the loneliness epidemic. Nine Four portfolio company, Bungalow, has created a platform where tenants can cohabitate with like-minded people and also plug-in to an even more extensive network through monthly events. The company encourages residents to "live with friends, embrace their neighborhoods, and expand their social circles." In a recent podcast, founder Andrew Collins talks about how not only was the housing affordability crisis a driving factor for the creation of Bungalow, so was building community and aiding concerns around loneliness. Andrew talks about how finding a network of friends can be quite tricky when moving to a new city, with this, Bungalow is trying to improve that experience by building a great network to dive into and hit the ground running from day one.
Established organizations are also marketing products that encourage interpersonal connections, such as Facebook and Amazon, with "Portal by Facebook." Portal by Facebook promises to allow families and friends to "experience more together" with its smart camera that pans around as you move, the ability to watch tv with loved ones who are in other locations, the shared use of AR, built-in video call features through apps such as WhatsApp and a variety of other integrated add on's.
While technology has the ability to isolate, we are seeing a surge of new technology doing just the opposite. As awareness builds and people gain more knowledge of the value of human connection, I anticipate we will see greater traction in this space. While technology continues to broaden, understanding and developing ways to live with it, grow with it, and be better with it is imperative – we look forward to seeing what's next!