Nine Four believes that for firms in traditional real estate sectors, maintaining the status quo as it pertains to technology testing and adoption is not an option if they want to be successful. It's a requirement. We frequently have conversations with businesses and individuals looking to wrap their heads around this, and we usually start with the "why's", then shift to the "how's". The intention of this post is to provide the high level outline for both.
For Starters: Why Have a Technology Strategy?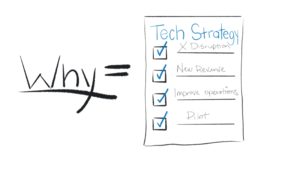 Firms that have a strategy to test, implement, and leverage startup technologies see a few clear benefits:
1. It helps defend against disruption. Startups are historically catalysts for industry disruption, and without taking a proactive role in monitoring the startup landscape across stages, firms leave themselves vulnerable to being unseated. Disruptive companies can be bought early, merged, or, at worst, defended against
2. Startups can help to create new revenue streams. Startups can uncover new customer segments, products, and/or services that may be incremental to a firm's existing product line. If a firm already has strong relationships within a specific customer demographic, oftentimes these discoveries can lead to incremental revenue with limited effort.
3. Startups can improve existing businesses. Rather than being true disruptors, startups can provide new products and services to firms that improve existing operations. Software may increase worker productivity and throughput, make decisions faster and better, or identify problems early before they become a major issue. Startups can also help firms differentiate themselves and win new customers. In industries with slower growth, incumbents must be able to defend and attack where they can, of their existing customers may flee.
4. Try before you buy". Firms that pilot products and services get exposure without deep commitments of time or capital. Firms that test startups seem to get better at it over time, and that can permeate across an organization's culture.
How??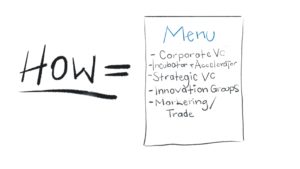 Corporates typically have a "menu" of options to choose from to achieve specific objectives related to startups and new technologies. Each option either partners with an organization with specific knowledge and exposure to the startup ecosystem, or aims to develop that knowledge and relationship development in-house. The options are not mutually exclusive. At the end of the day, the goal for firms should be to achieve all of the "why's" listed above. But where do you start? Should a firm do everything in-house? The answer will depend on the firm, but the catalysts for startup exposure and corporate learning likely start with:
1. Corporate VC
Committed on or off-balance sheet investment vehicles mean that firms can own a piece of the changing landscape, and potentially defend against a competitor leveraging a high-impact company or technology. Many real estate owners and managers are spinning up corporate venture arms and much has been written about them. I won't rehash that here, but there are clearly varying degrees of success across the board. A historical challenge is that many firms quit their corporate venturing too soon, or it's the first to go in a downturn.
2. Incubators and Accelerators
Accelerators like Y Combinator are seen as the marquee programs for high-potential early stage companies. Developing  relationships with PropTech accelerators and incubators allows firms to be early customers (sometimes even the first ones) for early stage companies, and allows them to influence the products and services that companies are building.
3. "Strategic" VCs
Strategic investors such as Nine Four spend time exclusively in the PropTech space and can provide more nuanced insights into companies across stages of maturity. We see a lot, share a lot, and are constantly learning.
4. Corporate Innovation Groups
These are internal groups that firms stand up that filter startups and technologies for corporate use, partnership, and/or M&A. The influence of these groups across firms vary widely. Sometimes they seem more ceremonial in their creation in use, while the successful ones are continually vetting new companies, implementing them across their firms, and have defined roles, responsibilities, and processes for adoption.
5. Marketing Platforms and Trade Organizations
Organizations such as CREtech host conferences, webinars, have publications, email lists, and provide news and trends for individuals and corporates that are interested. These firms help to build networks and relationships, and increase visibility for corporates and companies that wish to sponsor events. Trade organizations also focus on continual education, conferences, and certifications.
Since so many industries collide with the built environment, monitoring the startup landscape can be daunting. To move up the learning curve the fastest, we believe firms new to the space should partner with those that already have the knowledge and networks in PropTech. The more you learn, the more you realize you don't know, and leveraging others is an efficient way to get kicked off.