Controlled access and smart locks will ease the friction of implementing new technologies and services in multifamily buildings. How useful are dog walking, housekeeping, or package delivery services if these providers cannot seamlessly and securely enter and exit a building and/or unit?
Today, tenants unfortunately have no choice but to resort to sharing physical keys or relying on leasing offices to provide access to their service providers, such as dog walkers or housekeeping services. However, smart locks change the current inefficient paradigm. As a result, the productivity benefits of IoT access are two-fold. First, smart locks save tenants valuable time, provide peace of mind and most likely allow them to utilize more services previously not possible. Second, smart locks increase service provider yield given they can securely enter and exit any property unit without having to wait on or for a tenant to arrive.
Utilizing smart locks (such as the August Smart Lock Pro, Lockitron Bolt, or Latch C), a resident can provide a one-time access code to their unit for a specific window of time or provide access on a reoccurring schedule. This enables their dog walker, housekeeper, or other services to enter their unit without needing a physical key or while a resident is not at home. However, the vendor still needs to get into the building. Therefore, adding a smart intercom allows the resident to grant the vendor access when they arrive to the building.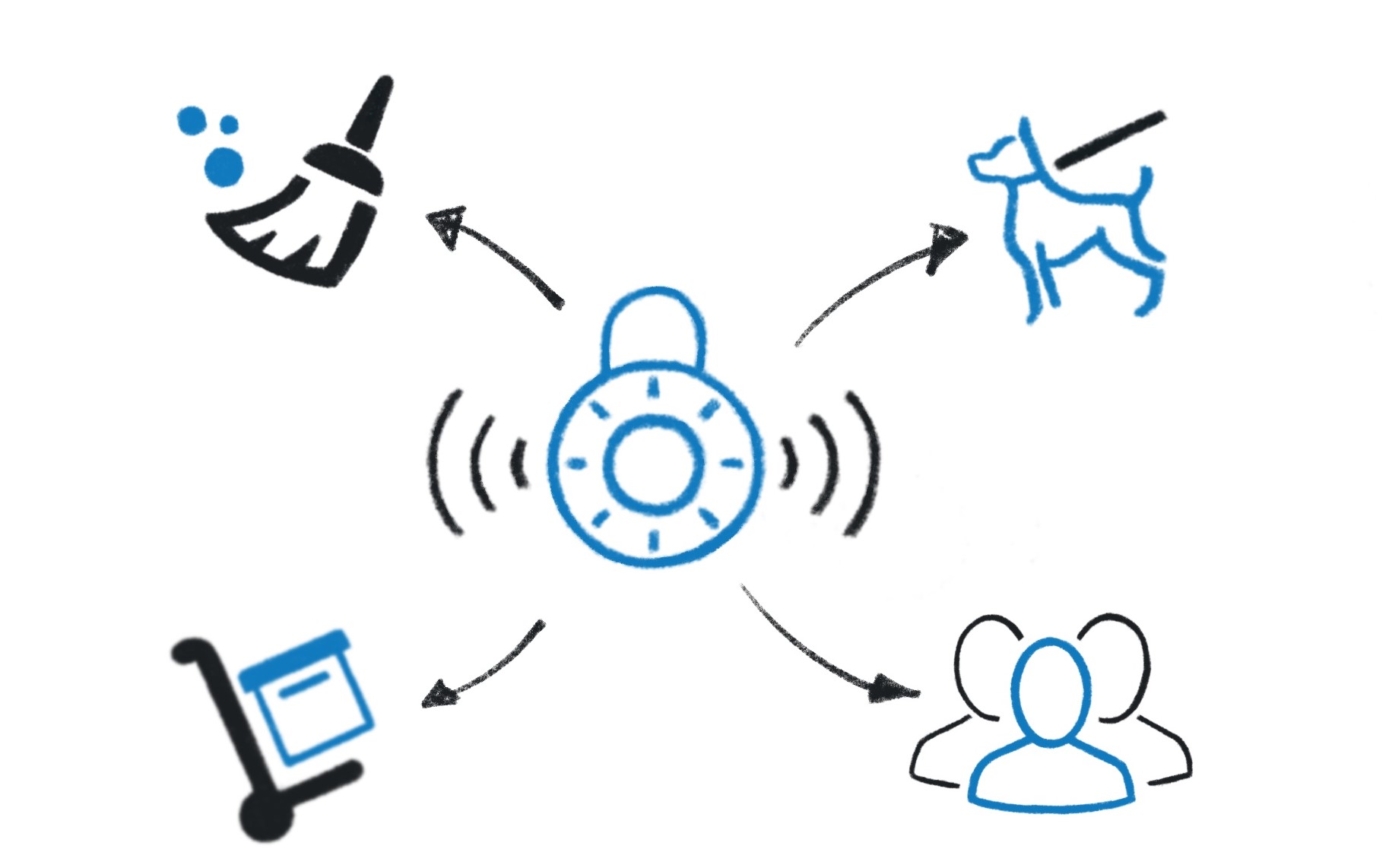 Smart intercoms (such as the Doorport or ButterflyMX) can be installed over the existing call box or intercom system. Smart intercoms that have cameras allow residents to see who is requesting access to the building via their smart phone, while also allowing the resident to talk to this person. Residents can also send out guest passes to their friends, family, dog walkers, and other services. Additionally, the property owner can see who is entering the building or trying to obtain access and which service providers are using the property.
Offering an amenity package including a smart intercom and smart locks provides benefits to both the property owner and the resident. The property owner now has zero or limited re-keying costs, a record of access to the property, and the ability to offer services such as in-unit package delivery. The resident can now provide access codes to family, friends, or services for a specific date/time and the ability to see when the service (such as a dog walker) unlocked and locked the door. Did they actually take Spot for a one-hour walk, or did they cut it short at 43 minutes?
Additionally, a smart intercom and smart locks provide property managers with the ability to tour prospects without a leasing agent physically present. An example would be housing leasing agents at a central office, who then provide remote tours via real-time video or a pre-recorded video, with the ability to drive to a property if a prospect wants an in-person, guided tour. Having a choice like this may be helpful for some prospects, as they may not want a leasing agent present for an initial tour. Within one minute, a prospect might know if they like the unit or not. If a leasing agent was present, they may feel obligated to have to stay for the whole tour. This saves time for not only the resident but also the leasing agent.
Having a building equipped with a smart intercom, smart locks, and even an access control system for elevators provides vendors with seamless access to the building, but only access to where they need to go. This system will provide tenants with an extra layer of security, but also opens the door for new technologies and services (such as in-unit package delivery) to more easily, but securely gain access to buildings.